A Luxurious Marvel
Located in the vibrant community of West Long Branch, New Jersey, Circle INFINITI proudly presents the 2024 INFINITI QX80, a larger-than-life luxury SUV that redefines opulence and performance. The QX80 is more than a vehicle; it's a statement of extravagance and excellence. This automotive masterpiece is designed to make every journey a memory to cherish.
A Design Masterpiece
The 2024 INFINITI QX80 stands as a testament to INFINITI's design and engineering prowess. Its commanding presence is a harmonious blend of form and function. With its bold, angular façade, athletic lines, and powerful stance, the QX80 is a true design masterpiece. Let's explore further.
A Bold Exterior
The first thing that strikes you about the 2024 QX80 is its bold exterior. This SUV exudes confidence with its sharp lines, powerful grille, and LED headlights that not only light up the road but also enhance the vehicle's athletic and authoritative appearance. The QX80's exterior design is sure to turn heads and leave a lasting impression, whether you're cruising through West Long Branch's streets or venturing beyond.
The Lap of Luxury
Step inside the 2024 INFINITI QX80, and you'll find a hand-crafted interior that exemplifies luxury. It's more than just a cabin; it's a sanctuary designed to cater to your senses. Quality materials, rich textures, and intuitive controls combine to create an ambiance of opulence. The QX80's interior is a testament to the idea that luxury should be as engaging as it is comfortable.
Inspect the Specs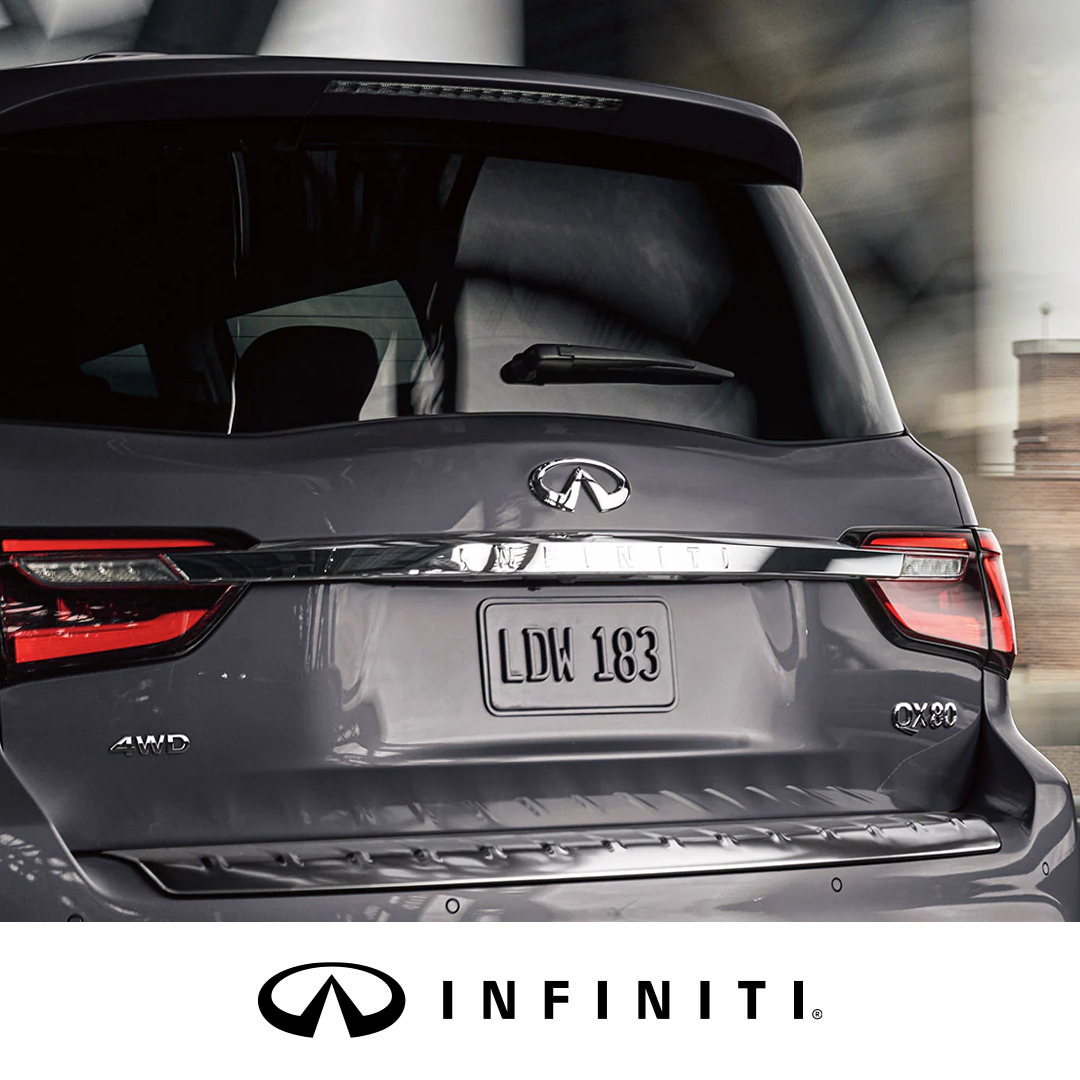 Performance, space, and comfort are at the heart of the QX80's design. Let's dive into the numbers and explore what makes this SUV an exceptional choice. The 5.6-liter V8 engine generates an impressive 400 horsepower and 413 lb-ft of torque, giving the QX80 the power it needs to conquer any road. Furthermore, its spacious interior ensures that you and your passengers enjoy ample legroom and comfort.
Drive with Distinction
Beyond its impressive specs, the 2024 INFINITI QX80 is designed to make every drive unforgettable. Premier INFINITI hospitality is infused throughout all three rows of seating. The 2nd-row captain's seats offer a premium touch, ensuring that passengers are treated with the comfort and distinction they deserve. This is a luxury SUV that elevates everyday drives to remarkable experiences.
All-Around Protection
Safety is paramount when it comes to the 2024 QX80. It boasts next-generation safety technology, ensuring a 360° approach to keep you and your passengers protected while on the road. The comprehensive safety features have been thoughtfully integrated, offering peace of mind and confidence with every journey.
Primed to Perform
The QX80 is not just about looks; it's about performance. The moment you press the throttle, you'll feel the authority of a vehicle built to tackle life's challenges head-on. Whether you're on city streets or rugged terrains, the QX80 is primed to perform. This is a testament to INFINITI's commitment to creating vehicles that deliver an exceptional driving experience.
INFINITI's commitment to customer experience extends beyond the driver's seat. The 2024 QX80 comes with INFINITI Premium Care, a routine vehicle maintenance plan that covers all model year 2023 and 2024 INFINITI vehicles. It's an integrated service designed to ensure your INFINITI remains in pristine condition.
There's Beauty Within
The interior of the 2024 QX80 is a sensory delight, combining everything you desire in a luxury SUV with everything you need to navigate modern life. Every detail has been meticulously designed, ensuring that each trip in the QX80 is unforgettable for both drivers and passengers.
The Finest Details
The QX80's interior is a result of expert craftsmanship and thoughtful design. No stone has been left unturned, and no detail overlooked. From the gear shifter to the quilted leather seats, the interior of the QX80 is a testament to quality and luxury. 
Specially-Treated Luxury
The available semi-aniline leather-appointed seats are specially treated, ensuring unmatched comfort and breathability, even in extreme weather conditions. Noise-insulating glass further enhances the QX80's ride quality, transforming a city drive into a peaceful and enjoyable experience.
Touches for Every Taste
The 2024 QX80 is designed to cater to every taste. From the INFINITI InTouch™ with Wi-Fi Hotspot that keeps everyone connected and entertained to the standard Smart Rear View Mirror that ensures you're aware of your surroundings, the QX80 provides a bespoke experience for everyone on board.
Three Rows of Comfort
Families and passengers alike will appreciate the comfort of the 2024 QX80. The first-row seats offer heating, power adjustments, and cooling options, along with a memory system to keep your preferred settings. The second-row passengers enjoy abundant legroom, whether in captain's chairs with optional heating or a bench seat for larger groups. The third-row seats power-recline, ensuring a comfortable experience for all.
Design That Commands Attention
The 2024 INFINITI QX80 is designed to make a statement. Modern design elements meet timeless features, ensuring that this luxury SUV leaves an everlasting impression. It's a vehicle that enhances your lifestyle.
Be a Style Icon
The QX80 draws inspiration from strong athletic faces, boasting a lower grille with an angular chrome accent strip that highlights the squared-off jawline of the front fascia. The high and wide front fascia adds visual lift, while the hood's sharp lines and front fenders add to its unmistakable presence.
Endless Customization
The QX80 offers an array of exterior colors and options for personalization. With available 22" cast aluminum alloy wheels, dark chrome exterior trim, and Adaptive Front Lighting that anticipates changes based on your steering, you have the freedom to customize your QX80 to match your unique style.
Undeniable Power
Beyond its stunning looks, the QX80 packs a punch when it comes to performance. The 5.6-liter V8 engine can tow up to 8,500 lbs, generating an impressive 400 horsepower and 413 lb-ft of torque. This power ensures that you're ready for whatever lies ahead, whether it's a family adventure or a journey off the beaten path.
Conclusion
The 2024 INFINITI QX80, available at Circle INFINITI, is more than just a luxury SUV; it's a masterpiece that combines design and engineering to redefine the driving experience. It offers the West Long Branch community an unparalleled taste of luxury that is indeed larger than life. With a focus on safety, performance, and exceptional craftsmanship, the QX80 stands as a testament to INFINITI's commitment to excellence.
Visit Circle INFINITI today and experience the 2024 INFINITI QX80 in all its glory. Let it redefine your idea of luxury and show you that the road is where memories are made. It's time to embrace opulence, power, and distinction with the 2024 INFINITI QX80.