THE GLOBAL REVEAL
INFINITI QX60 MONOGRAPH
INSPIRED BY HERITAGE
Focused on the exterior, the Monograph previews our next-generation INFINITI QX60 to come. With a sleek, wide stance and bold posture, its athletic proportions compliment Japanese-inspired details.
ENVISIONED FOR FAMILIES
We imagined the INFINITI QX60 Monograph as a sophisticated yet functional solution for a busy, modern family - encasing dedicated three-row seating while maintaining an aerodynamic silhouette.
INFINITI Illuminates the Road Ahead with QX60 Monograph
Nashville, Tenn. – On September 24, INFINITI Motor Company unveiled a vision of how it plans to transform the QX60 nameplate through a virtual reveal of the QX60 Monograph from Yokohama, Japan.
The QX60 Monograph is a design study for the brand's three-row SUV showing the new direction INFINITI designers are exploring for the future QX60.
More information on how to watch the reveal event live will follow on INFINITI's Media Newsroom www.infinitinews.com or www.infinitiusa.com.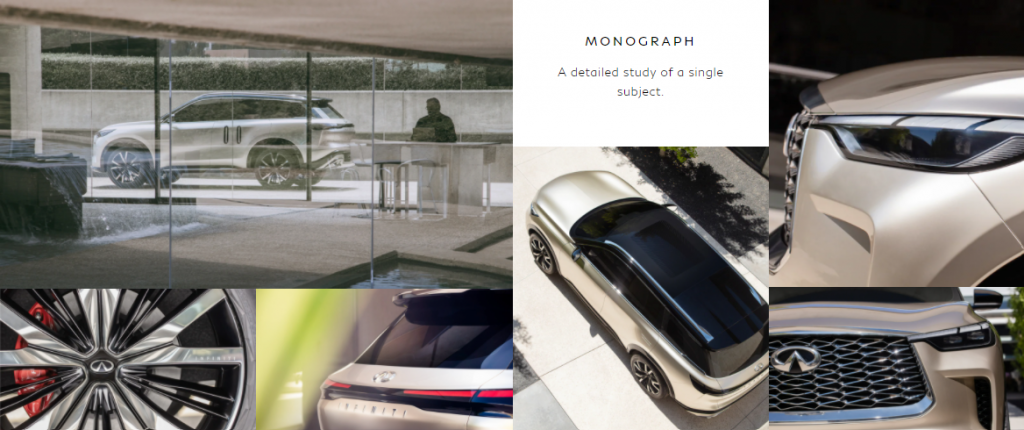 THE HARMONY OF SIMPLICITY
Embodying the Japanese concept of "Ma", the INFINITI QX60 Monograph holds a deep sense of minimalism. At a glance it's simple, but look closer, and you'll find carefully designed elements playing against each other in harmony.
BE ONE OF THE FIRST TO KNOW WITH INFINITI NEWS, INFORMATION AND UPDATES